Dear Members and Friends,
In one of the most beautiful and compelling passages of scripture we are called to a special and joyful purpose. "Hear, O Israel: the Lord is our God, the Lord alone. You shall love the Lord with all your heart, and with all your soul, and with all your might." (Deut 6:4-5) Jesus adds that we should love our neighbor as ourselves.
Just after these words, Deuteronomy reminds us of a ...
Read More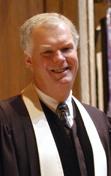 ---